This page is being updated ....
please excuse the mess.
MissDeal's Magic Garden
How I became 'MissDeal'
I was dealing 21 (blackjack) at the Sahara Hotel in Las Vegas - 1990's - when I got my first computer. I bought the domain name "missdeal.com" and taught myself to code. At work they let us dress up for Halloween that year, so I was a beauty queen with a sash that said -- wait for it -- yep -- Miss Deal. In gaming, the term, "misdeal" means the deal is faulty & the hand must be dealt over again. So it was a play on words -- the beauty queen named "MissDeal". Turned out the Marilyn Monroe vibe dress was so distracting, bosses weren't watching the money so they sent me to a table way in the back of the casino by the ballroom stairway. A wedding party came downstairs & said, "You're so beautiful, what are you doing way back here?" I told them ... they smiled & gave me a pot of wedding flowers.


Snapshots from the Magic Garden
original pages - circa 1999

.................................................................................

60's time capsule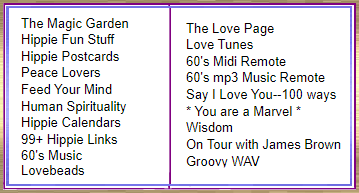 The cost for bandwidth with people linking to my files became too much. Maybe some day I'll reconstruct it. It was a blast!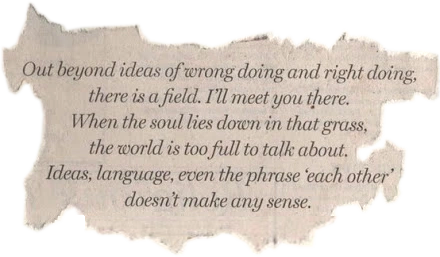 ,,, by one of my favorite poets - Rumi

FAVORITE QUOTES

WE MUST BE THE CHANGE WE WISH TO SEE IN THE WORLD

"There is a light in this world, a healing spirit more powerful than any darkness we may encounter. We sometimes lose sight of this force when there is suffering, too much pain. Then suddenly, the Spirit will emerge through the lives of ordinary people who hear a call and answer in extraordinary ways." ....Mother Teresa
.... My Wages ...
"In my craft or sullen art
Exercised in the still night
When only the moon rages
And the lovers lie abed
With all their griefs in their arms,
I labour by singing light
Not for ambition or bread
Or the strut and trade of charms
On the ivory stages
But for the common wages
Of their most sacred heart"

...Dylan Thomas

... Ken Carey "Return of the Bird Tribes" [Native Americans call angels "bird tribes"]



60's mission statement

Peace to all who enter here!

The 60's generation brought forth many social enigmas, but the one constant thread that wove us into a communal culture is love and brotherhood. We experienced the profound reverie of togetherness and of heightened senses that see, taste & feel this unique ODDyssey called life. Our music lives on, our fear of war is still strong, and our HOPE of a new and better world is as alive as ever. John Lennon said the work is not done ... we must kindle the fire in our youth to spring up with a movement that creates values for a cohesive society, lest we revert to our primal instincts and self extinguish. Let us find our spiritual self, and follow our conscience so that we may fully LIVE and discover our ultimate destiny .. which is: to learn to Love.
..... D. Ames aka. MissDeal
Note: A lot of music has of necessity, been removed from my website.
Bandwidth thieves have cost me way more than I can afford ...

If you would like to contribute to the cost of running this website, God Bless You! click here

My Favorite 60's Music

***
THESE LINKS DO NOT WORK

| | |
| --- | --- |
| | There are many paths in the Garden ... |
Melanie
* Special * music video
Lay Down
.. and more!
circa 1969

Vets for Peace


** WHAT IS WAR GOOD FOR? **
Click HERE to see

C O N T R I B U T E . . . . Y E S !
Thanks for your support !.