---
<!- -----------------------------------------------METRO SUBSECTION BUTTONS BEGIN->
<!- -----------------------------------------------METRO SUBSECTION BUTTONS END-> <!- ---------------------------------------------------------------------------------METRO_OPEN ENDS->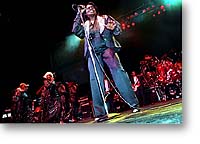 ---
James Brown performs during his birthday bash in 1996

Steve Shelton/Augusta Chronicle
---
'96 Bash: Brown delights crowd as funk monsters return

Originally published 05/04/96

By Lori Wiechman and Rich Copley
Staff Writers

James Brown didn't wait to take the stage.

Only minutes after his Birthday Bash started Friday night at Augusta-Richmond County Civic Center, the Godfather of Soul was centerstage with Taiwanese singer Sho-Ane. The couple crooned a version of Georgia on My Mind in Chinese and English and occasionally danced.

Then Mr. Brown took a seat in the front row of the civic center, and an eclectic array of performers such as rock guitarist Slash, country group Sawyer Brown and seven professional football players played and paid tribute to the soul star.
---
James Brown and M.C. Hammer get down during the Godfather of Soul's birthday bash in 1996.

Carol Cleere/Augusta Chronicle
---
Paying tribute was the order of the talk-heavy evening as several stars and personalities from Mr. Brown's radio station, WAAW-FM (94.7), gave extensive testimonials about the singer's influence.

Among them was Isaac Hayes, a soul superstar in his own right, who said, ``You are very fortunate to have Mr. Brown in your midst.''

He had to deal with a heckler who said he wanted to hear music. In his best basso, Mr. Hayes responded, ``I didn't come here to entertain you; I came to pay tribute to Mr. Brown.''

Mr. Hayes didn't perform, but many other artists did, including 18-year-old blues guitarist Kenny Wayne Shepherd, who delivered a blistering pair of tunes. Sawyer Brown won over the crowd with a performance highlighted by lead singer Mark Miller's funky dancing.
---
James Brown at a press conference with members of an Olympic delegation from Atlanta. Mr. Brown was a featured performer in Atlanta during the 1996 Games.

Staff/Augusta Chronicle
---
``We're really just flattered he asked us to be here. That's wild to us that he knows who we are,'' said Sawyer Brown keyboardist Gregg ``Hobie'' Hubbard, a couple of hours before the concert.

Diane Ames, introduced as a Las Vegas singer, sang Happy Birthday in a breathy Marilyn Monroe style.

[Note: Kenny Wayne shepherd was introduced at this show. He is the absolute bomb!...DA ]

Other artists appearing at the bash included jazz keyboardist Alex Bugnon, Columbia-based band Rear Window and former James Brown bassist Bootsy Collins.

``(He's) like Elvis was, but he is our black Elvis and he's still here,'' said a grinning Mr. Collins, peering over his star-shaped sunglasses at a preconcert press conference.

When Mr. Collins took the stage at the bash, the crowd went wild and rushed to the front. But he didn't absorb the adulation, deflecting it to the guest of honor by leading the crowd in a chant of ``James Brown.''

The bassist's appearance came after Mr. Brown had already delivered several songs with his band, such as Try Me, Living in America and Get Up Offa That Thing.

While the audience cheered on the other performers, Mr. Brown was its obvious favorite. For his set, he changed into a tight, black satin outfit with silver sequins.

Several performers, in addition to Mr. Collins, joined Mr. Brown.

Most of them said it was frightening to share the stage with the legendary showman.

``Just getting up and playing with him, I'm intimidated as hell,'' Slash said. ``He's where I got my guitar style from.''

Adrienne Brown, Mr. Brown's wife who died in January, was remembered in a tribute by the Rev. Larry Fryar after the bilingual performance of Georgia on My Mind.

<!- --------------------------------------------------------------------------------CLOSE_ALL BEGINS->